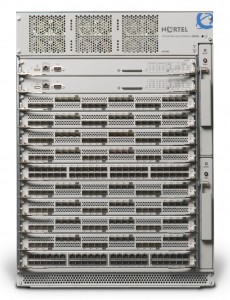 Nortel has announced the successor to the Ethernet Routing Switch 8600. It's their next generation data center switch which promises to be truly ahead of it's time geared specifically at virtualization.
The VSP 9000 will provide PLSB (Provider Link State Bridging) along with VCS (Virtual Control Service) which promises to tightly integrate with VMware VMotion.
The front of the VSP 9000 contains the I/O slots, control-panel modules and cooling fans. The VSP 9000 provides 10 I/O slots. One 7-foot rack can hold three VSP 9000 chassis. Three module types are being offered: 24-port 10GE SFP+, 48-port 1GE SFP and 48-port 10/100/1000.

There are two control plane modules offering 1+1 redundancy, with the control plane split from the switch fabric based on a mid-plane architecture. Two redundant cooling fans are provided for side-to-side cooling for the I/O and control panel modules. The speed of the cooling fans is adjustable depending on system temperature and fan failure, with sensors located on each inlet and outlet slot to test the temperature and adjust the fan speedaccordingly.

The rear of the chassis contains the power supplies, cooling fans, switch fabric and auxiliary modules. There are six power supplies with N+1 and gridfeed redundancy. The power supplies are load shared. Two additional redundant cooling fans provide front-to-back cooling for the switch fabric and auxiliary modules.
Network World has released a article on the VSP 9000 which was very positive. The one take away I had from the article was this line, "this switch is way ahead of its time in handling virtual environments. Their product strategy is ahead of their corporate strategy". I think we can all agree that Nortel's corporate strategy needs more than just a little work.
I've heard that Nortel could possibly start a beta in October 2009 with general availability to follow sometime in January 2010.
You can find much more information in the product brief and additional information in the position paper.
Cheers!