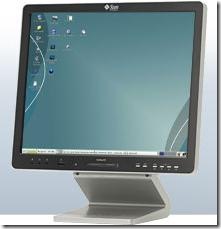 I thought I would take a break from my usual material and post something a little different. Please forgive me as this article bares little technical value but I just felt like posting anyway. Like every company out there we've been involved in evaluating the dizzying array of Thin Client and Virtual Desktop solutions on the market today.
I recently had the opportunity to evaluate the Sun Ray 270 Virtual Display Client solution from Sun Microsystems. It's a really clean all in one solution that features a 17″ display with an integrated Smart Card reader. The solution required the use of a Sun Solaris x86 server to act as the middleware between either a Microsoft Terminal Server or Citrix Metaframe Server. Users sessions were initiated by the insertion of a Smart Card and the solution excelled at hotdesking, allowing a user to remove their Smart Card and go to another Sun Ray and pickup exactly where they left off from the previous session by simply inserting their Smart Card and entering their password (if it was configured to prompt for a password).
The Sun Ray client located the Sun Solaris servers within the same local network by use of a broadcast packet. When the Sun Ray client was outside the local network we had to configure special DHCP options which enabled the Sun Ray to "locate" to the back-end Sun Solaris servers.
We did have some interoperability issues with Windows 2008 Terminal Services Session Broker that Sun hopes to have resolved sometime in the coming year.
The only real feature the device was missing was an integrated 802.11 wireless solution. The reseller did point out that the Sun Ray can be paired with a few 802.11 bridges to provide wireless connectivity.
While we didn't actually select the Sun Ray for the project we were evaluating I was really impressed with the solution and would advise anyone looking at thin client solutions to give their nearest Sun reseller a call. If your interested in hotdesking and/or Smart Card support in a thin client then you should definitely check out this solution.
Cheers!