While at Networking Field Day 11 we stopped in to NetScout and heard from the Fluke Networking folks regarding TruView Live, a SaaS (software as a service) solution with both hardware and software based probes intended to provide both performance and availability metrics from various locations. The product has the unique ability to actual place a SIP based IP phone call as opposed to just simulating the traffic from a call. As a person responsible for over 550 locations around the globe the ability to monitor in near real-time both the network performance and availability really peaked my inner geek. There's not a day that I don't read or hear some comment that the network is slow. Often that's not the case but it's up to the network engineer to disprove that statement. The challenge becomes measurably easier if that engineer has the appropriate tools at his/her disposal.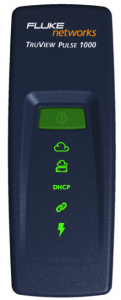 NetScout provided a TruView Pulse 1000 to each delegate. I assembled mine shortly before starting this draft and connected it to my home personal network. I then registered for a 15-day trial and claimed my TruView Pulse 1000 in the TruView portal. I proceeded to add SaaS solutions such as Office 365, ADP and Salesforce.com to my monitoring dashboard from my Pulse 1000 (Pennsylvannia) along with global Global Pulse endpoints from California, Sydney, Tokyo and Virginia. When I tried to add a custom test I found that I could only add web GET or POST tests. There were no ICMP or traceroute tests although I believe the presenters commented that they were in the roadmap.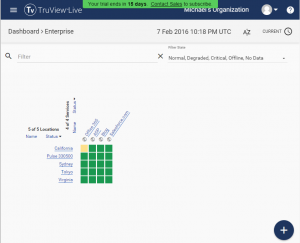 With that all setup I was left with a fairly simple dashboard which listed the four applications I was testing along the top from the five locations along the left side.  Colors were used to indicate various state of health. You could drill down and bring up some of the detailed graphs which provided a breakdown of the performance, similar to a waterfall detailing the steps necessary to establish the actual web connection.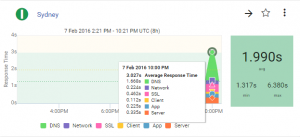 A few the Networking Field Day delegates compared TruView Live against NetBeez, a competing product.
It was surprising that the SSL certificate had expired on the NetBeez website, in their defense it only expired yesterday so I'm sure that it will be quickly corrected. (Note: their SSL certificate has been renewed as of February 7, 2016)
The TruView Pulse 1000 (pictured above) is fairly small and is relatively easy to deploy at a remote office or store. Just note the MAC address, ship the device to the remote office and have someone connect it to a PoE switch port that has Internet access and that's all there is to it. I'm interested to see how this solution is going to mature, I can imagine a number of additional useful features.
Cheers!