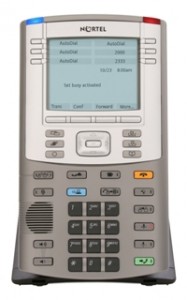 It looks like another manufacturing issue with the Avaya/Nortel IP phones. I'm not sure if it's just me but it seems there have been quite a few of these over the years. It looks like a hardware revision change (different flash memory) might be to blame.
If you recently purchased an Avaya/Nortel 1150e IP phone and that phone was manufactured between December 10, 2009 and December 25, 2009 you might need to RMA the phone. Apparently problems can appear when you try to upgrade the firmware/software on the phone.
In addition, if you recently purchased a new Avaya/Nortel 1150e IP phone you should not attempt to downgrade the firmware/software. There is now a minimum supported firmware/software version for all newly manufactured phones because of the hardware change.
You can view the official customer service bulletin here.
The 1150e IP phone is primarily designed as a Contact Center handset. It has no physical handset since Contact Center users traditionally use wired/wireless headsets. We have about 100 1150e IP phones deployed throughout the organization and have been very happy with the product.
Cheers!