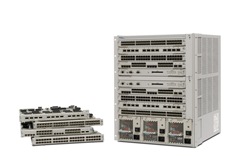 In June 2008 Nortel released software code v5.0 for the Ethernet Routing Switch 8600. While I haven't had the opportunity to load the v5.0 software yet I thought I would just throw out some of the new software features and new hardware options. I hope to load the 5.0 software in our testlab in the next few weeks and test the software. I would strongly suggest to anyone that is planning on upgrading to review all the documentation, especially the release notes.  Of particular note the 8690SF and non-E modules are no longer supported so you'll need to replace those cards before you can upgrade to the 5.0 release.
Note: you can click on the image above to get a better look at the new RS modules.
New software features:
Virtual Routing and Forwarding Lite (VRF Lite)
RFC4364/2547 IP VPNs (MPLS-based, RFC4364-like IPinIP-based)
Nortel Secure Network Access (NSNA) 1.5 for R and RS modules
Mirroring, VLAN scaling and multicast scaling enhancements
Nortel command line interface (NNCLI)
Software licensing
Power Management
Routed Split Multilink Trunking-Edge (RSMLT-Edge)
Custom Auto-Negotiation Advertisements (CANA)
Virtual Router Redundancy Protocol (VRRP) Management Information Base (MIB) standardization
New hardware options:
RS modules
10GBASE-LRM XFP and 1000BASE-EX SFP
High-speed cooling module
Dual input power supply
The new RS modules  use new hardware and software to provide enhanced QoS and port mirroring capabilities. RS modules include:
8612XLRS—offers 12 XFP ports
8634XGRS—offers 24 100/1000 Mbps SFP ports, 2 XFP ports, and 8 10/100/1000 Mbps copper ports
8648GBRS—offers 48 100/1000 Mbps SFP ports
8648GTRS—offers 48 10/100/1000 Mbps copper ports
For Release 5.0, the Ethernet Routing Switch 8600 supports the 10GBASE-LRM XFP and 1000BASE-EX SFP. The 1000BASE-EX SFP operates at 1550 nm and has a reach of up to 120 km. The 10GBASE-LRM XFP provides 10 GbE service at a wavelength of 1310 nm. This XFP can attain a reach of up to 220 m on 62.5 μm multimode fiber.
I've taken the majority of the information above from the official release notes so I would strongly suggest those that are interested to download and review the release notes, as well as all the documentation provided with the 5.0 release.
I'm primarily excited about the increased density in the new RS modules. In my position I'm continually struggling with port density issues and space constraints. I'm not even going to start in on the cooling issues.
Cheers!