I recently started evaluating the Nortel Business Ethernet Switch 50 for Small Office and Home Office (SOHO) deployments in a Virtual Private Network.
These are very small business offices, doctor's offices and senior executives homes where we don't need the features that an Ethernet Routing Switch 4500 or 5500 series switch would provide. There are really fours variables to keep in mind; price, size, noise and features. One of the features we were looking for was Power over Ethernet (PoE) ports for an IP phone and/or a wireless access port.
We evaluated the BES50FE-24T PWR and the BES50GE-24T PWR and they both performed nicely in bandwidth tests. We did observe some odd behavior with some different end devices that all seemed to be resolved when we upgraded the switches to that latest software release (v1.0.5.0 for the BES50GE-24TPWR and v1.0.3.0 for the BES50FE-24TPWR).
Default Username: nnadmin
Default Password: PlsChgMe!
Default Read Only SNMP String: PlsChgMe!RO
Default Read-Write SNMP String: PlsChgMe!RW
I've generally found that the BES50 will default to an IP address of 192.168.1.128 although Nortel advises the use of the Nortel Business Element Manager to search for the device (please refer to the Quick Install Guide above).
Cheers!
Update: January 12, 2009
How do you factory reset the BES50?
When pressed for 5 seconds, the reset button reinitializes the switch. This returns the switch to the factory default settings if, for example, you forget the default IP address, your user name, or your password.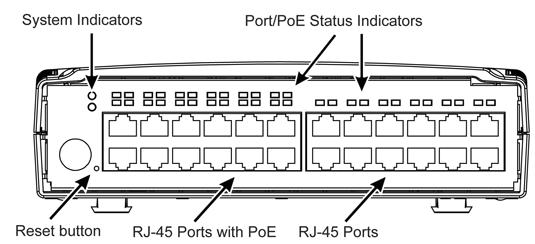 The reset button is found on the front of the BES50 as depicted in the graphic above. The actual button is approximately 1 inch inside the faceplate and Nortel advises that you use a non-metallic object to depress the button.
Cheers!