Over the holidays I decided it was time to upgrade the home theater equipment in my basement. At the center of my old setup was a Hitachi 51SWX20B 51″ rear projection TV that I purchased back in 2003. Unfortunately it only has 2 DVI ports and one of them failed about 5 years ago. I purchased the Samsung 65″ LED Smart 4K Ultra HD TV (UN65KS8000FXZA) from Best Buy along with a Whalen Furniture 3-in-1 Console furniture set. I didn't want to go through the headache of hanging the TV on the wall and still needed somewhere to put all the audio/video equipment including the Onkyo TX-SR600 A/V Receiver, Verizon FiOS HDTV tuner and new Samsung BD-J6300 Blu-Ray player that I picked up from Amazon. I chose the BD-J6300 because it had a digital TOSLINK output and supported Dolby 5.1 surround sound. The Whalen furniture took about 90 minutes to assemble all total, the instructions were good the piece looks pretty good.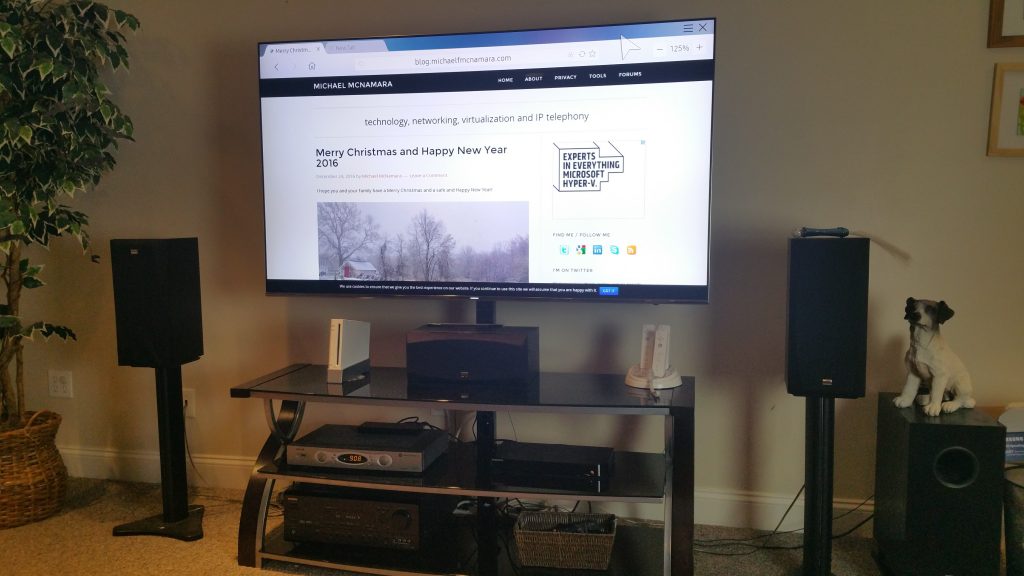 Overall I'm happy with the TV, and really happy with the Whalen furniture. The Smart TV functionality includes Amazon Video, Netflix, YouTube, Hulu and HBO Now along with a built in web browser.
Perhaps I'll get a chance to replace the Onkyo TX-SR600 over the next few years.
Cheers!