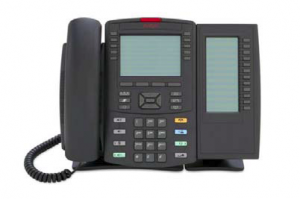 Avaya has released SIP software release 3.2 for their 1100 and 1200 series IP deskphones. This release adds support for the 1120e, 1140e, 1165e, 1220, and 1230 model IP deskphones.
Here are some of the enhancements made in the new software release;
Improved Licensing
SIP Support for 1220,1230 and 1165E IP Deskphones
Shared Call Appearances – CS1000
IPv6 Support
SRTP Media Security
TLS Signaling Security
Certificate-based Authentication
Enhanced Screensavers
Background images
Support for Avaya Aura™ Communication Manager / Session Manager
I was having a discussion with "Mike" in the comments section of any earlier post entitled, SIP Software Release 3.0 for IP Deskphones, in which he pointed out some of the issues with the new licensing model. Well it looks like Avaya was paying attention to that thread and made some changes to the licensing that should satisfy the majority of users. (I'm just going to quote directly from the readme.)
Improved Licensing
Licensing was introduced in the SIP 3.0 release. With SIP 3.2, the following changes are made to the licensing mechanism:
The Standard feature set is now available on all desksets without a token. This provides a basic set of SIP features conforming to RFC 3261 (SIPPING 19) at no additional cost.
Now, when the phone is registered to a recognized Avaya call server (Avaya AuraTM, AS 5300, CS1000 or CS2100), the Extended feature set is available as well without a token.
The Advanced feature set is reserved for Federal and DoD features on the AS 5300 call server only
The feature packages have been re-organized

Wideband is part of Standard feature set
IPv6 and Broadworks SCA are part of Extended feature set
Security is now part of the Extended feature set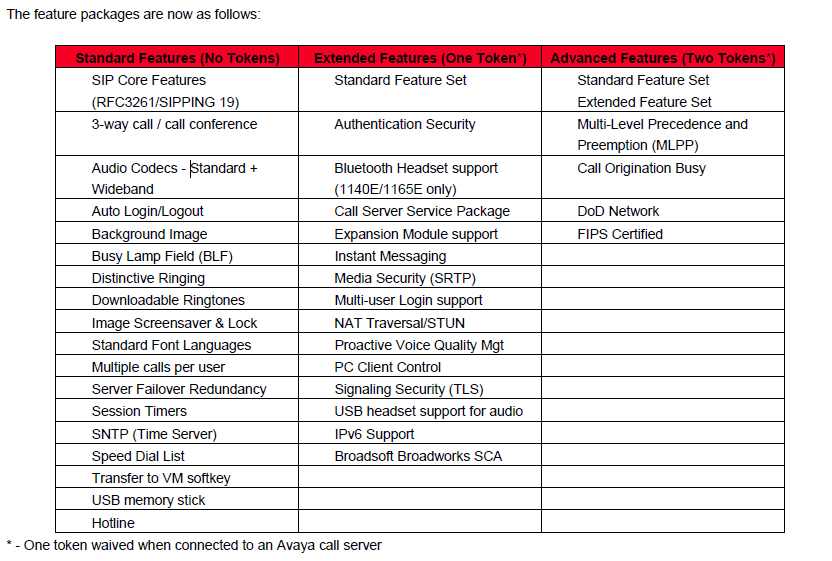 If you connect your IP deskphone to a Avaya Call Server (Avaya AuraTM, AS 5300, CS1000 or CS2100), you'll get all the standard features you would get with the UNIStim firmware. The licensing really only comes into play if you decide to connect your Avaya IP deskphone to a third party call server or SIP provider.
Please make sure to review the product bulletin and the readme for all the details.
Cheers!