About six months ago we started looking at replacing our aging Cisco 4500 chassis switches that were over 11 years old and  starting to show their age with PoE issues, line card failures and numerous bad ports. We had a simple campus network design routing between each IDF with multiple routed links (East/West) back to a pair of Cisco 6509 core switches. In the end we decided to look at Cisco, HPE and Juniper as our top three vendor options.
As many readers will recognize I successfully deployed Avaya now Extreme (formerly Nortel) Ethernet switching solutions at my previous employer for 17 years with great success. The Avaya/Extreme product was extremely cost competitive and provided every feature that we needed to provide a highly reliable network infrastructure to a large healthcare provider. So it shouldn't surprise anyone that I was more than comfortable looking outside of Cisco's product offerings.
In the early stages I personally felt that HPE was probably the best positioned to win our business. I had some experience with the HPE/Aruba 3810M and it had worked well in a number of consulting engagements. That was until I received the pricing from Juniper. Juniper literally wiped up the floor and quite literally walked away with our business. We looked at the following products;
Cisco 3850X
Cisco 2960X
Cisco Meraki
HPE/Aruba 3810M
Juniper EX4300
Juniper EX3400
In the end we landed on the Juniper EX4300-48P because it met all of our requirements and enabled us make extremely efficient use of our budget. We've deployed about 7 IDFs so for (~ 64 switches all total) connected to a pair of Juniper EX4600s via 10GBaseLR SFPs and we have yet to run into any major problems or issues. We did run into a few problems… but those were quickly fixed with a bag of cotton balls and some rubbing alcohol  – we had to clean the fiber patches.
What did we look at in our selection? Here's the matrix we ended up creating. If there is some inaccurate information in the table below please post a comment and I'll be happy to update the data accordingly. I have excluded pricing information, you'll need to-do your own homework on that front.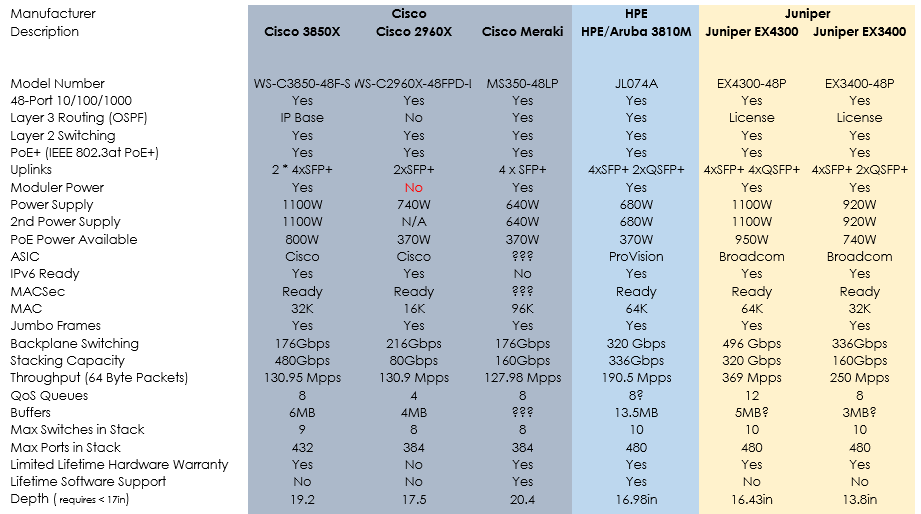 Since my current employer believes steadfastly in 100% patching in the closet we usually end up with some very large IDFs and so the ability to have 10 switches in a stack was a large consideration. We also have a number of IDFs with very shallow racks and/or cabinets and that necessitated only looking at solutions that were under 17 inches deep.
That leaves us with a pair of Juniper EX4600s acting as the campus core running OSPF and connecting to the Juniper EX4300-48Ps in the IDFs in a Virtual Chassis configuration. Each IDF is it's own L2 domain with OSPF routing between the IDF and the campus core. The Juniper EX4600s in turn connect to the Data Center Cisco 6509s. Next year's project will be to replace the Cisco 6509s that are still in the Data Center.
I hope to put out a sample configuration guide in the coming weeks for the Juniper EX4300-48P.
Cheers!