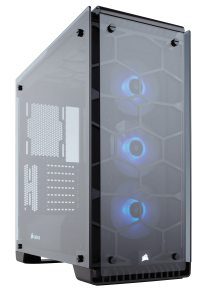 I honestly wasn't planing a desktop upgrade, but you know what happens when hardware dies… time for an upgrade.
Unfortunately the wife's computer recently died so I gave her my desktop (swapping SSDs and hard drives) and went about putting together a new desktop for myself from the following purchases;
I decided to stay with Intel for now and passed on AMD Ryzen and Threadripper. I also decided that I'd be more than happy with an Intel Core i7 series processor, no need to look at the recently released Intel Core i9 processors. I did decide that the old Antec P180 case needed to be put into the scrap pile so I ordered a Corsair Crystal Series 570X RGB case. Since I swapped the SSDs and hard drives I ran into the dreaded Windows activation issue since the original product keys were OEM versions. I didn't want to go through the time and effort of re-installing Windows 10 so I purchased 2 retail copies of Windows 10 Professional and applied those product keys. While the hardware supports overclocking, I'll probably run it at stock until I need more performance or I find the time to start testing the overclocking potential of the hardware.
Now I need to spend sometime finding a replacement for Crashplan. Any recommendations?
Cheers!