A few weeks ago I started a "Biggest Loser" competition at work, trying to foster a healthier lifestyle and better eating habits mixed up with a little friendly competition from my coworkers. I weighed in at a whopping 321 lbs which is a lifetime personal high for me. Almost 3 weeks later I'm off to a good start having lost almost 20 lbs weighing in at 301.
I've been a Fitbit and Withings user for more than 3 years now so I can look back at the data and easily see how I've let things get out of control. You can easily see that things started to get really bad just before January 2015.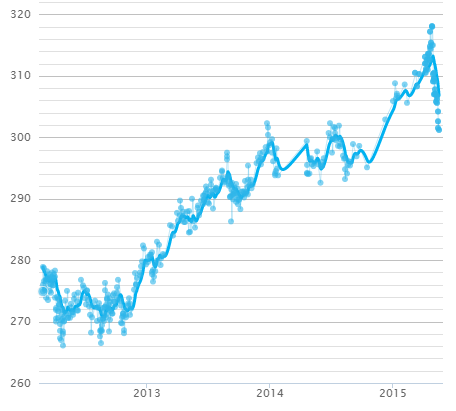 I'm no fitness or nutrition expert… far from it but I'll share what seems to be working for me.
I've cut out the after dinner snacks or desserts, I've reduced the portion sizes I eat, I've taken to eating more fruit, I've cut out the soda and Gatorade and just drink water now and I've taken to working out for at least 60 minutes 4 times a week while I try to walk at least 3 times a week for 2 miles or more. Working out can be boring and it's hard for me to stay motivated, so a little friendly competition is just what I need to keep myself engaged.
I still enjoy in-line skating and the Valley Forge Schuylkill River Trail offers a really smooth virtually flat trail for joggers, bikers and skaters.
I was out this morning and was able to complete a 11 mile circuit in just over an hour. Unfortunately it had rained last night so the sections of the trail that were covered by the tree canopy were still wet and if you've ever skated on wet roads you'll know that it's akin to skating on ice with rubber feet – it's hard to get traction and extremely slippery. And to that the leaves and other debris on the trail that you usually find on a tree covered trail and it can get really interesting. It can also occasionally be dangerous as I was reminded this morning when I wiped out at Betzwood, my wet wheels failing to grip the surface as I rounded a curve. I've got a nice case of road rash up my right leg for my inattentiveness.

I used the Fibit application on my Android smartphone to track my exercise above, I only just realized recently the Fitbit app could do that.
What are you doing to stay fit?
Cheers!