I'm a Windows guy and I'm happy to admit it. I grew up with Windows, yes I ran Windows 3.0, and I have supported Windows desktops throughout my entire career. I decided sometime ago that while Apple has some great products I just wasn't really interested in learning a new operating system and decided to stick with Windows and yes Linux specifically Ubuntu (desktop) and CentOS (server).
This week right in the middle of a fiber cut that left me with multiple Internet and Metro Ethernet circuits down the Seagate Momentus Thin hard drive in my Lenovo T430 ThinkPad up and died on me. Like a typical user I had left notes and documents on the C: drive that I hadn't copied to either SharePoint, OneDrive or my team's network share. A scramble ensued and I was ultimately able to recover the few files that I desperately wanted. One of those files included all my notes on building GSLB VIPs across a pair of A10 vThunder appliances – look for that post soon. I can still recall my younger days and the excitement that would ensue around rebuilding my desktop or laptop. Windows would generally slow down over time due to application and registry glut so a rebuild would usually result in a much better performing machine. I'm definitely not young anymore nor do I have the time, or patience, to be rebuilding my laptop or desktop.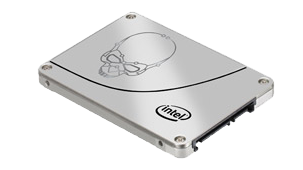 The desktop team quickly replaced my hard drive but I took a minute and thought, "this is a great time to upgrade to a SSD". I don't run the corporate desktop image, instead I dual boot between Windows 8.1 (custom install) and Ubuntu 14, so while the desktop team had quickly replaced my failed hard drive I now needed to rebuild my entire machine along with all my applications, configurations, license keys, etc. If I'm going to spend all this time and effort I need to get something out of it – so I upgraded to an Intel 730 Series 240GB SSD. The Lenovo T430 ThinkPad only allows for 7mm think drives so you need to be mindful of that small detail when selecting a SSD that will physically fit into the laptop. I went ahead and started rebuilding the laptop using the Seagate hard drive – I couldn't really wait even for the day it took NewEgg to ship the SSD to my house from New Jersey. When the Intel 730 arrived I performed a System Image Backup of Windows 8.1 to an external hard disk, installed the SSD, booted from a Windows 8.1 USB recovery stick and restored the backup to the SSD. The laptop booted the first time without issue, I installed the Intel SSD utilities to optimize the configuration (enable TRIM, etc) and the upgrade was complete. While the Lenovo T430 ThinkPad is no power house it gets the job done for me.
I've been slowly exploring Microsoft OneDrive and OneNote. Until a few years ago I would continually leave all sorts of paper notes all over my desk, eventually I migrated to just using Notepad which resulted in me leaving text documents all over my desktop or home drive. Very difficult to organize, somewhat difficult to search. I just started using Microsoft's OneNote using OneDrive to store the documents. Hopefully this will help me organize my notes better and ultimately make me more efficient.
Cheers!