Here are some of the quotes and sayings that I can be heard using throughout the day both at home and at work. I'm a creature of habit so I've been using these for quite sometime and while they haven't grown on me I know for sure they are pretty worn out on some of my former colleagues and family members. Only being in my current job for the past year my new colleagues are still somewhat forgiving of my oddities – this being just one of them.
"PICNIC"
A reference to users complaining and whining about something when the problem is usually them – Problem In Chair Not In Computer. There are so many other references to clueless users but this is usually my go to phrase. It's funny because my wife now thinks the term "user" is derogatory and will scold me for referring to her as a user.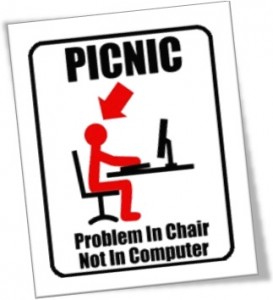 "Twenty-Three Nineteen Twenty-Three Nineteen!"
A reference to the scene in Monsters Inc when one of the monsters returns from the human world with a child's sock on his back and all hell breaks loose. I use this quote to denote just that, that all hell is breaking loose and that we've got a pretty big problem on our hands.
"Big E Lights Up"
A reference to a phrase coined by 1980's New York Mets announcers Ralph Kiner and Tim McCarver when a player made an error on the baseball field that would be recorded in the error column on the score sheet. I use it in a similar fashion to denote when someone has made a mistake or error. The wife especially hates this one.
"GOAL"
A reference to sports commentator Andres Cantor well known G-G-O-O-A-A-L-L. I can't really do this justice but I do enjoy standing up and attempting to imitate Andres when I've solved a problem or uncovered some long sought answer.
BRILLIANT!
A reference to the Guinness commercials back from 2004, I use this to mock sales reps that just haven't a clue how their product works or how to actually implement them. It only takes a vendor to mention the word "cloud" once or twice before I start dropping the word "brilliant" in response.
Any you'd like to share?
On a side note, I spent about 40 minutes trying to get the auto-embed YouTube videos above to center within the page. I tried number of different solutions and they all failed. I finally gave up but I'll need to figure this out when I have some extra time. If you've been following the last 14 posts you'll know that I'm half-way through Greg's challenge of 30 posts in 30 days. I warned you ahead of time that there might only be one or two good ones, I'm not sure I've hit one of those just yet.
Cheers!
Note: This is a series of posts made under the Network Engineer in Retail 30 Days of Peak, this is post number 15 of 30. All the posts can be viewed from the 30in30 tag.