A few weeks ago I was asked by mom to pick-out a new computer for dad. I briefly shopped around trying to determine if I would purchase a desktop from the likes of Dell, Acer, Asus, etc or if I would build him a custom desktop by ordering the individual parts. I eventually decided to build a custom desktop and I thought it might also afford me the opportunity to teach my daughters about the different components that make up a desktop computer. Well unfortunately, I didn't get many takers when I asked for help assembling the build – there was a surprise!
Here are all the components I used in the build;
Antec Sonata III 500 Black 0.8mm cold rolled steel ATX Mid Tower Computer Case 500W Power Supply
GIGABYTE GA-Z77-DS3H LGA 1155 Intel Z77 HDMI SATA 6Gb/s USB 3.0 ATX Intel Motherboard
Intel Core i5-3570K Ivy Bridge 3.4GHz (3.8GHz Turbo) LGA 1155 77W Quad-Core Desktop Processor Intel HD Graphics 4000 BX80637I53570K
Intel 530 Series SSDSC2BW240A4K5 2.5″ 240GB SATA III MLC Internal Solid State Drive (SSD)
G.SKILL Ripjaws X Series 8GB (2 x 4GB) 240-Pin DDR3 SDRAM DDR3 1600 (PC3 12800) Desktop Memory Model F3-12800CL9D-8GBXL
Microsoft Wireless Desktop 2000 M7J-00001 Black USB RF Wireless Ergonomic Keyboard & Mouse
Acer S275HL bmii Black 27″ 6ms (GTG) HDMI Widescreen LED Monitor IPS Panel
Logitech C920 USB 2.0 certified (USB 3.0 ready) HD Pro Webcam
ASUS DRW-24B1ST/BLK/B/AS Black SATA 24X DVD Burner – Bulk – OEM
Microsoft Windows 7 Home Premium SP1 64-bit
The build was pretty straight forward except for one small problem.
The POWER SW and RESET SW leads on the Antec Sonata III 500 were reversed. I spent about 2 hours cannibalizing another desktop trying to eliminate the various components before I stumbled upon a review on NewEgg that claimed the wires were mis-labled. Amazingly enough the original poster was correct – the wires were mis-labeled! Swapping them immediately resolved my problem and the machine came to life.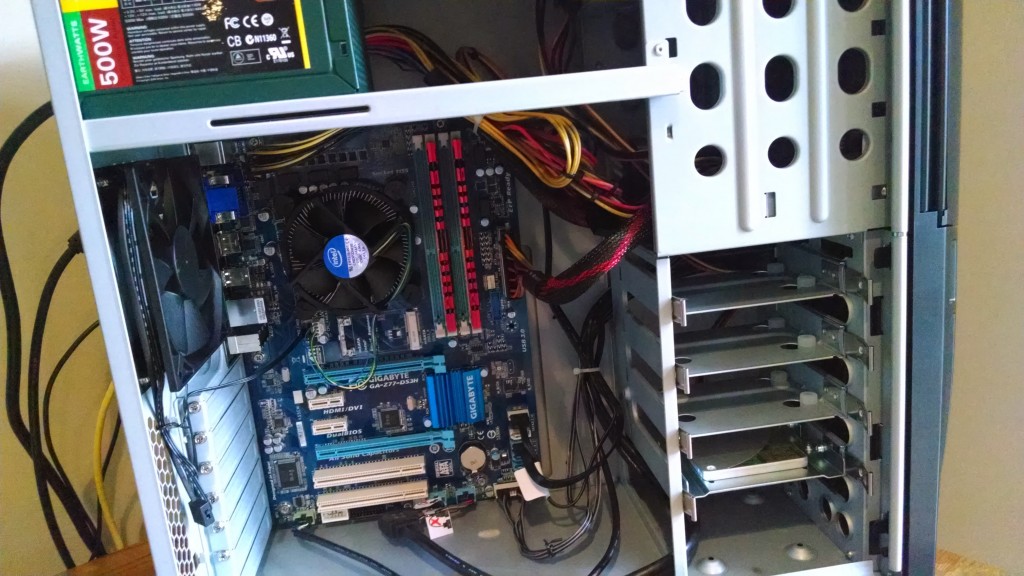 I love challenges but really Antec… shame on you. This build went from a happy fun experience to a frustrating mess… I spent wasted so much time troubleshooting the problem assuming it was a component issue. And even after I stumbled upon the solution I then had to go back and reassemble both desktops.
Cheers!