There's a lot of talk about SPAM the last few weeks. Yesterday I read a Brian Krebs story titled, Don't Like Spam? Complain About It. It was interesting to learn that the miscreants as Brian likes to call them are actively trying to avoid anti-spam activists. While I've filled more than my fair share of abuse reports over the years I doubt I'm on that list. A few weeks back I read that Greg Ferro was suspending comments on his personal blog as well as Etherealmind because of all the comment SPAM. While I'm generally disappointed I can understand his decision. It takes a lot of time and resources to keep the lights on and Greg and come to the point where he feels the bad outweighs the good. I've talked about SPAM on my blog on a number of occasions throughout the years – January 2013, January 2011, December 2010, September 2009 and March 2008.
Thankfully we have tools with WordPress including Akismet that are indispensable in combating the nuisance.  Unfortunately even with Akismet most blogs need to enable comment moderation, which requires a moderator (in most cases the blog author) to manually moderate comments from new visitors. In addition to the time lost by the moderator having to review each comment, large sites are wasting large quantities of CPU time and bandwidth which translates directly to operating costs and real $$$.
I've had to implement verification questions during account registration on the discussion forums that are specific to the networking industry in order to flush out the bots and miscreants. I'm using the following questions;
How many octets/bytes in an IPv4 address?
How many wires in a standard CAT 5e cable?
What is the maximum speed of a T3/DS-3 in Mbps?
How many octets/bytes in an IPv6 address?
Thankfully those verification questions have kepts the SPAM bots to a minimum on the discussion forums. I'm not providing the answers because I don't want to defeat my own verification questions, although they are easily found with a quick Google search. Almost everyone reading this should know those answers right?
Let's look through the SPAM comments that we have this morning (23 of them over the past 48 hours) and see if there's anything interesting…

Our first one is from Montreal, Canada I wonder how far a report to abuse@ovh.ca would get?

Our next one is from Romania, I wonder what response we might get from office@everhost.co?

Now we're starting to get interesting with some traffic from Putian, China. I had no idea my little blog had a global reach? – I better check /var/log/secure for any intrusion attempts!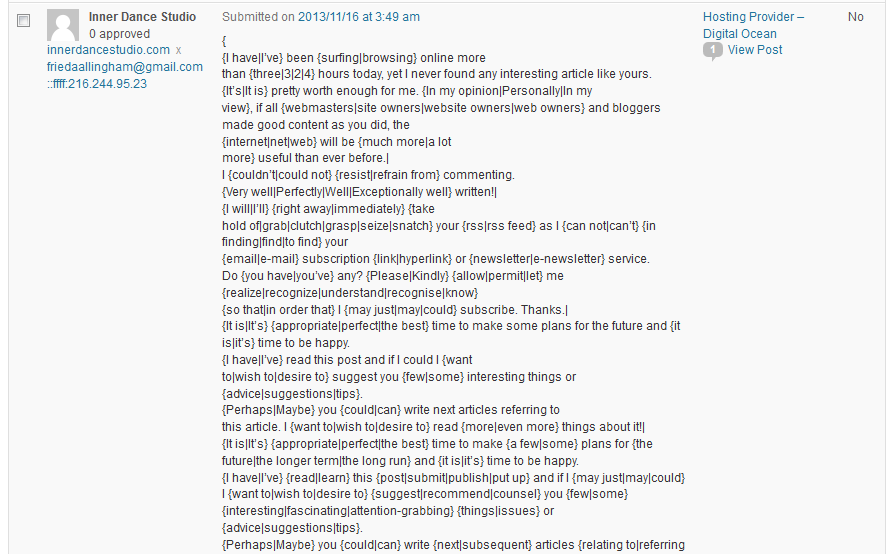 And for our last hit we have Seattle, Washington US. I'm sure the folks at abuse@wowrack.com would jump all over our report. Wowrack.com resells their hosting to other clients and will usually direct you to contact their client directly.
A quick Google search reveals that I'm not the first person to see this template nor am I likely to be the last. The template is 304 lines long and while I won't post it here you can look at it on Pastebin if interested; http://pastebin.com/raw.php?i=JV4wAUFr
My Thoughts
These days there are so many places to "comment". There's the original location of the content, there's Twitter, Facebook, Google+, LinkedIn, etc. There's almost too many places to comment because you can't really bring all those comments together under a single pane for someone who might be perusing the topic at a later date – but that's another problem entirely.
Thankfully I'm not as big a target as Brian or Greg with all their visitors and pageviews so I don't have it nearly as bad. I will admit that in the past I would check my blog daily to approve/delete comments, these days I'm probably checking my blog every 2-3 days which sometimes leads people to occasionally double post their comment because they don't quite grasp that their comment needs to be approved before it will appear on my blog. I really value the comments and feedback I get so I won't be disabling comments anytime soon. I will probably grumble and complain as Brian points out in his story but that's the price I've decided to pay.
Cheers!