Last night was my first experience using a CPAP (continuous positive airway pressure) machine while sleeping. I'm using a Phillips Respironics System One with a ResMed Mirage Quattro full face mask. For my first night it wasn't the best night sleep I ever had but it wasn't the worst either. I was able to get to sleep around 11:30PM local time and slept straight thru until I woke up around 5:00AM. I removed the mask and fell back to sleep until I got up an hour later.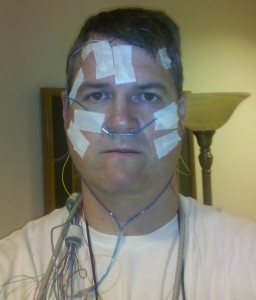 For the past few years my wife and kids have complained that I snore like a bear. My hockey teammates even ragged on me when we played in traveling tournaments, telling me that they would pay for for my room so long as it was on the other side of the building. While my snoring is pretty bad, I also twitch while sleeping, which makes life for my wife miserable. In the fall of 2011 I had a sleep study performed. I've never had so many cables connected to me, there were literally at least 80-100 leads/wires coming off my body, legs, arms and head. You can see the selfie I took back then, I should really have asked the technician to take the picture. It took literally 20-30 minutes for the technician to wire me up to everything.
I was diagnosed with moderate sleep apnea, the doctor telling me that I was waking up approximately 25 times an hour. An average person will wake up less than 5 times an hour. The insurance companies will generally cover a CPAP machine for anyone that wakes up more than 6 times an hour.
A friend of mine recently highlighted some of the dangers of sleep apnea;
High blood pressure – I have borderline high blood pressure
Heart disease – no signs yet
Type 2 diabetes – there's diabetes in my mothers family
Weight gain – I've gained 20 lbs since the sleep study in 2011
Adult asthma – no signs yet
Acid reflux – I continually have this problem if I eat anything past 6-7PM in the evening
Car accidents – I frequently find myself very sleepy in traffic
The late NFL great Reggie White passed away from sleep apnea at the age of 43. It's rumored that he had a CPAP machine but wasn't using it. While I'm no Reggie White, I just turned 42 in October and decided it was past time to act.
So I'm on a mission – wish me luck!
Cheers!