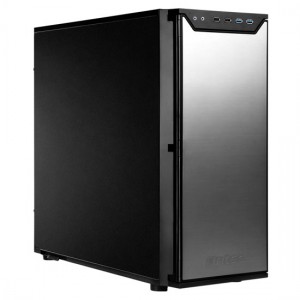 It's been a while since I upgraded my primary desktop machine so I thought it was time to spend a little coin. While I did install a SSD back in August 2012 I thought it was time for a completely new machine. When I get a new machine I usually pass my old one down to the wife and then her old machine to the kids and so on this way everyone has a little something to be excited about. This time around I decided to splurge and go for what I would probably consider a fairly high-end build. I also ordered a new case and power supply so I could have both machines running at the same time and could take my time migrating the data and content from the old machine to the new machine.
Here's what I purchased from NewEgg;
I thought about going with water cooling but eventually decided to stick with air cooling and purchased the Zalman CNPS9900ALED .The Zalman heatsink is insanely huge, words just don't do it justice. While the Antec P280 case is fairly large itself, the Zalman heatsink quickly fills the case making it look small. Thankfully everything arrived within a few days of ordering it and it took me about 2 days to assemble the new machine. I performed the assembly in the following order;
Install Corsair power supply into Antec P280 case
Install G.Skill memory onto Gigabyte motherboard
Install Intel Core i7 CPU onto Gigabyte motherboard
Install Zalman heatsink onto Intel Core i7 CPU and Gigabyte motherboard
Install Gigabyte motherboard into case
Install Samsung 840 SSD into case
Install Western Digital hard drive into case
Install MSI 6950 video card into Gigabyte motherboard and case
Wire everything together, including all power leads, front panel LEDs, USB headers, SATA connectors, etc.
The hardest part was figuring out how to mount the Zalman CPU heatsink which probably took about 20-35 minutes. Thankfully everything was working right out of the box and I had no DoAs or RMAs to contend with. Obviously I stayed with Windows 7 64-bit having heard all about the issues with Windows 8.
That leaves me with the following build;
Windows 7 Service Pack 1 64-bit
Intel Core i7-3370K @3.5Ghz
16GB G.Skill Ripjaws DDR3 2133 memory (4 sticks)
Gigabyte GA-Z77X-UD5H motherboard
MSI R6950 Twin Frozr II OC Radeon HD 6950 2GB
256GB Samsung 840 Pro Series SSD
2TB Western Digital Black SATA 3 hard disk
LITE-ON Blue Ray DVD burner
Antec P280 case
CORSAIR HX Series HX850 power supply
Logitech G15 keyboard
Logitech G5 mouse
Logitech C910 webcam
2 x ASUS 27″ LCD display
Canon i2600 InkJet Printer
Cheers!