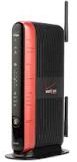 I'm a Verizon FiOS Internet and TV (and Verizon Wireless) customer. I've been using Verizon FiOS Internet since 2006 and Verizon FiOS TV since 2008 here in the Philadelphia suburbs. I'm happy to say that I've been very pleased with the service – even though the prices have gone up significantly since my original post in 2008. You actually get an Internet connection with 25Mbps up and 25Mbps down and the picture quality of their High Definition channels is superb.
Over the past two months I started experiencing intermittent connectivity problems with my Verizon FiOS Internet service. I noticed that I would loose all Internet access once sometimes twice a night during the evenings. The service would drop out for usually 2-3 minutes at a time although on January 5th it dropped out for about 15-20 minutes right in the middle of a gaming session with some friends while playing Planetside 2.

I posted to Twitter that I was having difficulty with my Verizon FiOS Internet service and @VerizonSupport replied to my tweet. Yes, they actually replied to my tweet!
Long story short they asked me to fill out a very short web form and two days later they shipped a replacement Verizon Wireless Router (BHR) – thanks Adam! I installed the replacement router last night and so far so good.
Let me commend Verizon for their use of social networking… fantastic way to connect with their users and cut through all the red tape.
I'm another very satisfied Verizon FiOS customer!
Cheers!