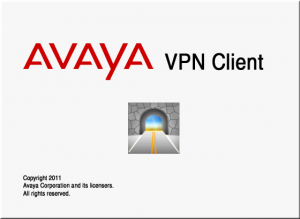 Avaya has released version 10.06.200 of their VPN client (formerly Contivity Extranet Client) that supports both 32-bit and 64-bit versions of Windows 8.
This single client supports the following operating systems (in both 32-bit and 64-bit versions);
Windows XP
Windows Vista
Windows 7
Windows 8
Resolved Issues
wi01041435 – Traffic to overlapping network of Split net and Local net got blocked.
wi01031645 – AVC SwapAdapter feature does not reprioritize the VPN Adapter binding order for SSL tunnel types.
wi01011920 – AVC may Orphan NetBT NameList registry entries if ungracefully terminated.
wi01047768 – NVR interoperability – banner issues with specific IP address pool for Windows 7 users
wi01043584 – Installing AVC over same version in silent mode causes error
wi01058523 – AVC 10.06.104 IPSec Tunnels might drop during server initiated rekey
wi01049421 – Unsigned EAC Miniport Driver Blocked by Windows XP OS. A new binder.exe utility has been included in the installation directory (default: %ProgramFiles%\Avaya\Avaya VPN Client) on Windows XP systems to assist with remediating this issue.
wi01056647 – AVC may crash when connecting through an unstable wireless access point
wi01059319 – Sometimes WINS Servers may not take effect in Windows XP
wi01068400 – Dial-up not working properly on 32 bit platforms
wi01028196 – AVC fails to properly identify Windows XP x64 operating system which may result in improper client operation
wi00951988 – Unsupported Installation Change is not disabled properly.
Activation of VPN Adapter Failed
wi00928966 – Users who upgrade from a v10.05 or earlier release to v10.06 on Windows XP may receive the following error dialogue when attempting to establish an IPSec VPN tunnel – "Activation of VPN Adapter Failed". This issue occurs when the AVC filter driver is not upgraded correctly during software installation.
As a precautionary measure, rebooting the machine before an upgrade installation is highly recommended. If the problem does occur, the workaround would be to uninstall and then reinstall the client. Please note, uninstall will remove all profiles and configurations. If users want to carry them over to the following reinstallation, they can use the Import/Export feature to export them before uninstall and import them back after reinstallation. For more details about the Import/Export feature please see Section 7 of this document.)
You should refer to the release notes for all the details, including the interoperability issues.
AVC32-10.06.200.exe (32-bit Windows XP, Windows Vista, Windows 7, Windows 8)
MD5: 006e21051924d92634b62600c071418b
AVC64-10.06.200.exe (64-bit Windows XP, Windows Vista, Windows 7, Windows 8)
MD5: 34c860667260ce196139521196fca946
Cheers!