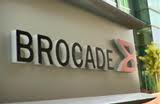 I visited Brocade's in San Jose, CA on Thursday October 11, 2012 for Networking Field Day 4. We met with Lisa Caywood and a number of Brocade product managers, product specialists and even some actual engineers!
Just over 2 years ago I had the opportunity to take a thorough look at Brocade for a data center opportunity that we were embarking on. We had been a Nortel customer and the acquisition of Nortel by Avaya had not yet been announced. Since it was too risky to look at our incumbent vendor we looked strongly at Brocade along with a number of other vendors.
While we didn't end up signing with Brocade we are (as is almost everyone else) a Fiber Channel SAN customer, having 4 IBM SAN80B-4 SAN switches which are really just OEM'd Brocade 5300 SAN switches. Those Fiber Channel SAN switches have been running 2+ years now non-stop and are the backbone of our storage area network.
Brocade is reselling Motorola Wireless solutions through an agreement announced in 2009. I do a lot of work with Motorola equipment and I've been meeting more and more Brocade users looking for help supporting their wireless environment. I even know of a few organizations that have decided to start sourcing their Motorola purchases through Brocade to help ease their back office paperwork and streamline support issues (single neck to hang).
I'm going to outline the different presentations that we heard and perhaps make a few points here and there if I have anything useful to say. I'll include a short blurb from Brocade in italics to help define/describe each product or solution. Thankfully since the sessions were recorded you can watch for yourself and make your own informed opinion.
Here's my disclaimer; I'm not endorsing any of the solutions presented below. I'm merely passing on the information along with a few comments of my own. If you have any personal opinions about the solutions below why not share them with us in the comments?
Introduction
Tech Field Day Video
by Lisa Caywood
I'm not sure if it was Lisa or whom but this was memorable enough that I wrote it down while taking notes, "we sell networking stuff, we sell stuff".
Tech Field Day Video
Jessica Koh, Michele, Jeffery
HyperEdge™ technology from Brocade is a breakthrough campus LAN innovation with two game-changing advances—mix-and-match stacking and single-point management—that deliver new levels of simplicity and manageability to the campus LAN. This innovation entirely redefines campus LAN operations and lifecycle management, bringing new levels of automation, efficiency, and value. While conventional vendors continue to offer the same old upgrade strategies, Brocade extends the life of your investment by letting you scale…effortlessly.
My Thoughts?
Brocade is looking to deliver their HyperEdge Technology which was announced in March 2012 in the Spring of 2013. We saw the ICX 6610 and the ICX 6430/6450 which are stackable switches for the campus core or edge. The switches will utilize standard SFP/SFP+ optics for stacking switches as opposed to proprietary stacking cables. Interestingly enough Brocade will have VRF functionality on their stackable entry level switches. I'm excited enough to ask my local sales representative to come in and provide a more detailed overview.
Here's a demo of VRF functionality on the ICX 6610 from Networking Field Day 4.
While other vendors don't usually extend the functionality of their higher end switches into their lower end models (when stacked) Brocade supports having the features (example, VRFs) of the ICX 6610 provided on the ICX 6430/6450 when they are stacked together.
Tech Field Day Video
by Kelvin Franklin
Brocade VCS Fabric technology helps organizations create efficient data center networks that just work. Ethernet fabrics built on Brocade VCS Fabric technology provide unmatched VM awareness and automation compared to traditional network architectures and competitive fabric offerings. In addition, they increase flexibility and IT agility, enabling organizations to transition smoothly to elastic, mission-critical networks in highly virtualized data centers.
My Thoughts?
I'm still personally digesting all the different data center fabric solutions such as VCS, Fabric Path, QFabric, VENA, etc. While some of these solutions are trying to address the portability of virtual guests across WAN and Layer 3 boundaries others are also trying to address the convergence of Fiber Channel and Ethernet.
Here are some use cases presented at Networking Field Day 4.