I recently contracted Lyme disease from either working around the house or training in Valley Forge Park. Unfortunately, I was on my back and in bed for almost an entire week and a half. I only went to the hospital (doctor's office was closed that day) after running a fever for 5 days, that fact not withstanding, the triage nurse didn't think very much of me for coming to Emergency Department (they don't like to call it an Emergency Room anymore) with just a fever, sweat, chills and some aches.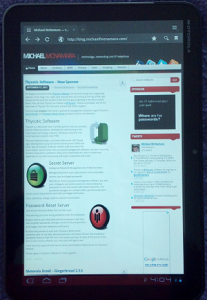 It was ironic because once I made it past the triage nurse the physician's assistant, who was very nice, she took a quick look at me for a few minutes and said Lyme disease. She asked me if I had any spots and asked me to stand up at which point she found a red blotch on my back at my waistline that she felt was probably the originating spot. The physician's assistant explained that she had diagnosed more than 30-40 cases in the past month and later we started to hear about all our friends and neighbors that had recently been infected and diagnosed.
Ultimately, the physician assistant's diagnosis was confirmed with positive blood test 3 days after my visit to the hospital and by then the antibiotics I was taking were starting to kick in. It would take me almost an entire 2 months to get my strength and stamina back to where it was before I got sick.
While laid up in bed I quickly grew tiered of managing the heavy laptop and the smartphone display was too small so the wife went out and purchased a Motorola Xoom for me. I'll admit that I had put the bug in her ear about it (Thanks Kim!)
Motorola Xoom
I've had the Motorola Xoom for about 3 months now and I've been very impressed with both the hardware and software. I just recently finished reading my first eBook, Web Operations:Keeping the Data On Time written by John Allspaw and Jesse Robbins via Google Books. Not much unlike my Motorola Droid 3 (Google Android 2.3) the Motorola Xoom (Google Android 3.1) does a great job of managing all my personal and work contacts including my email and calendar. It's very fast and responsive and the ability to view Adobe Flash content is a big key to using the device to view almost any website.
What tablet are you using and what for?
Cheers!