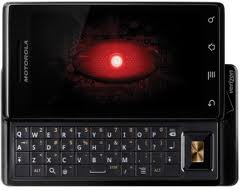 I recently upgraded from the original Motorola Droid (December 2009) to a Motorola Droid 3 thanks to Verizon Wireless's buy one get one free (BOGO) offer. That left me with the opportunity to experiment on my legacy Motorola Droid so I went in search of information on how to "root" it and what custom builds/ROMs of Android were available outside of the stock Android 2.2.2 that Verizon currently offers on the Motorola Droid.
I was able to "root" my original Motorola Droid which was running 2.2.2 by using SuperOneClick written by CLShortFuse. Then I stumbled across Peter Alfonso's port of Gingerbread 2.3.5. I was able to use ROM Manager along with ClockworkMod Recovery to install the custom ROM and I had my old Motorola Droid running Gingerbread 2.3.5 in a very short time.
Anyone have any recommended or favorite Android ROM for a Motorola Droid?
Cheers!