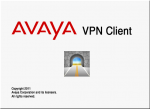 Avaya has released version 10.05.100 of their VPN client (formerly Contivity client) that supports both 32-bit and 64-bit versions of Windows 7. This single client supports the following operating systems (in both 32-bit and 64-bit versions);
Windows XP
Windows Vista
Windows 7
The following feature has been added;
Integrated smart card PIN prompt (wi00565664)

When users use smart cards, normally the smart card reader applications and the operating system handle the context setup, i.e. they pop up PIN prompt and PIN verification. However, with the introduction of Windows 7/Vista's "Session 0 isolation", this mechanism does work for some smart cards any longer. Their PIN prompts get blocked by "Session 0 isolation" when the calling applications run as services.

In this release, we take care of the smart card context setup within our client in a way that is compatible with the OS that users can continue using smart card based authentication smoothly as before.
The following issues were resolved;
wi00889552 – On Windows 7, when AVC establishes a SSL VPN tunnel, it identifies its local OS to Avaya VPN Gateway (AVG) as Vista.
wi00888226 – Certificates not available for selection if there are certificates installed on the PC that do not have a Subject field
wi00896822 – Occasionally the upgrade install on Windows XP 64-bit doesn't install the driver properly.
You should refer to the release notes for all the details.
I will continue to host both the 32bit and 64bit installation files here on my blog for download until such time as I run out of bandwidth or someone from Avaya objects (whichever occurs first).
If you feel so inclined why not leave a comment, even if it's just to say "Hi!".
AVC32-10.05.100.exe (MD5SUM HASH – 08f1a124ec969333680f883580327009)
AVC64-10.05.100.exe (MD5SUM HASH – 4174ea5afba84ad496356744a7ac579e)
Cheers!
Updated: June 29, 2012
You'll find the new client here.