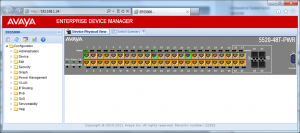 Avaya has released software 6.2.2 for the Ethernet Routing Switch 5500/5600 series switches.
Here are some of the highlights from skimming the release notes;
VLACP Unidirectional Fault Detection with support for the DOWN and HOLD subtypes (previously implemented in the 6.1.6 software stream)
additional 802.1AB (LLDP) TLVs for Avaya IP phones
The following issues were resolved in this release;
Inconsistency between CLI MAC_Security Addr & MAC_Addr_Table (wi00895275)
MAC- security MAC-Address table would not clear when disabling port or turning off Mac-Security (wi00895279)
After Upgrading from 6.1.1 to 6.2.1, QoS configurations were lost (wi00838747)
IST stack Ping recovery takes up to 2 minutes when moving PC (wi00822726)
Unicast acknowledge (option 85) changed to multicast acknowledge by DHCP-relay agent (wi00835596)
Autonegotiation could not be disabled (wi00824799)
EAPOL table entries showed MACs that were aged out (wi00831481)
In a stack configuration and after adding ports (from a newly added switch) to an existing VLAN, the stack became unstable (wi00731609)
SMLT/FDB tables were not completely synchronized when one of the IST peers was reset (wi00774925)
SLPP packets were sent with priority 0 (wi00555285)
Not able to set PID of Vlan protocol_userdef to 24577 to 24585 (wi00848161) This fix allows the creation of protocol VLANs using decOtherEther2
protocol PIDs or of using the PIDs for decOtherEther2 protocol VLANs, but not both. The protocol PIDs are 24576 to 24578, 24581 to 24585, 32824.
Incorrect ghost SMLT was created when IST/SMLT stats were displayed (wi00601469)
After upgrading from 5.0.5 to 6.2.0, ARPs were not properly generated (wi00851317) This issue was a byproduct of the use of IPFIX on a single port. A fix was implemented for the 5600 HW but, due to HW differences, cannot be implemented for the 5500, a workaround is to use more than one port when using IPFIX. The issue only appeared for the port using IPFIX.
IGMP static member (mrouter port) not forwarding multicast after port down/up (wi00895225)
Switch does not learn MAC of format xx:59:xx:xx:xx:xx (wi00870510)
Units reset when PIM is enabled (wi00848276)
Cannot give an IP address to the switch with the last octet as "0" (wi00872983)
IST peer 5632 HD encountered memory leak one hour after upgrade to 6.2.1 (wi00859217)
QoS BPDU Blocker settings were not saved on unit 2 after it was rebooted (wi00872260)
5600 ports become unresponsive under certain conditions with no packets transmitted out with "drop on no resources" counter incrementing (wi00854625)
I'm curious to see what performance gains we can expect to see from Enterprise Device Manager (EDM) from this software release. I had heard that they were re-writing it and some of that was supposed to be in software release 5.5 for the Ethernet Routing Switch 4500 series, perhaps some of those changes made it into this software release for the Ethernet Routing Switch 5000 series.
Cheers!