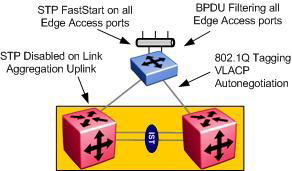 Avaya has released an updated version of their technical configuration guide outlining how to deploy switch clustering using Split Multi-Link Trunking (SMLT) on the Virtual Services Platform 9000, Ethernet Routing Switch 8600, 8300 and 5000.
This is really great document that helps to outline the best practices when deploying an IST/SMLT configuration within your network.
Here's the summary of the document updates for March 2011;
March 2011 – Added recommendation to use MLT advance mode on edge Ayava stackable switches when used with ERS 8000 square/full mesh topologies for IP based traffic. Changed VSP CP Limit configuration from port level to MLT level. VRRP hold-down timers can be set in the ERS 5000 6.2 release.
It's well worth the read in my opinion.
Cheers!