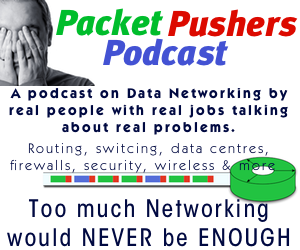 It's Friday and I'll admit up front that I'm intentionally adding a little flare to the title of this post to help draw people in. Let me say that I have nothing but the greatest of respect for Greg and all the folks involved with the Packet Pushers Podcast. However, I did promise him some publicity so I thought what better way than to stir the pot.
I should probably admit that I was personally very late to the whole podcast thing myself. I only started listening to a few different podcasts over the past 12 months or so. Although I've developed a regular routine where I download a list of weekly podcasts to my Sansa CLIP MP3 player just before I workout.
So what do you think about the Packet Pushers podcast? If you've never listened to any of the shows I would recommend you head over to the site and give a quick listen to any of the 56 shows. Just be sure to let me know what you think by leaving a comment. I'll be sure to share any and all comments with Greg.
Cheers!