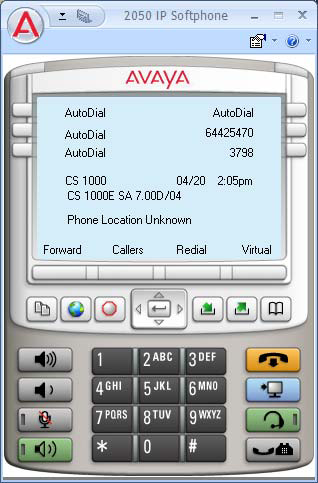 Avaya has released the IP Softphone 2050 Release 4.2 (Build 4.02.62) for the Microsoft Windows PC. This is primarily a maintenance release that includes multiple fix but no new additional features.
(101102-26211, wi00838178, wi00828501)
Corrects an issue running on Windows 7 where the IP Softphone 2050 does not connect to the call server after displaying "Terminal Manager Connect".
(100721-77062, wi00832321)
Corrects an issue where the IP Softphone 2050 may hang if it receives a call after being idle for several hours and the call is answered immediately.
(wi00839244)
Corrects an issue where the IP Softphone 2050 would crash when clicking "Add Link To" in the Local Directory.
(wi00842584)
Resolves an issue with duplicate audio streams where the Receive audio stream is not reopened after both the Rx and Tx streams have been closed.
The release notes can be found here. You can also find additional information in the IP Phone Fundamentals manual which is here.
Cheers!