I haven't received one of these fraudulent email messages in quite a while so I thought I would share with everyone my good fortune. Anyone know what I should spend my new found fortune on first? Perhaps a Motorola Xoom or an Apple iPad2 or maybe a new PC?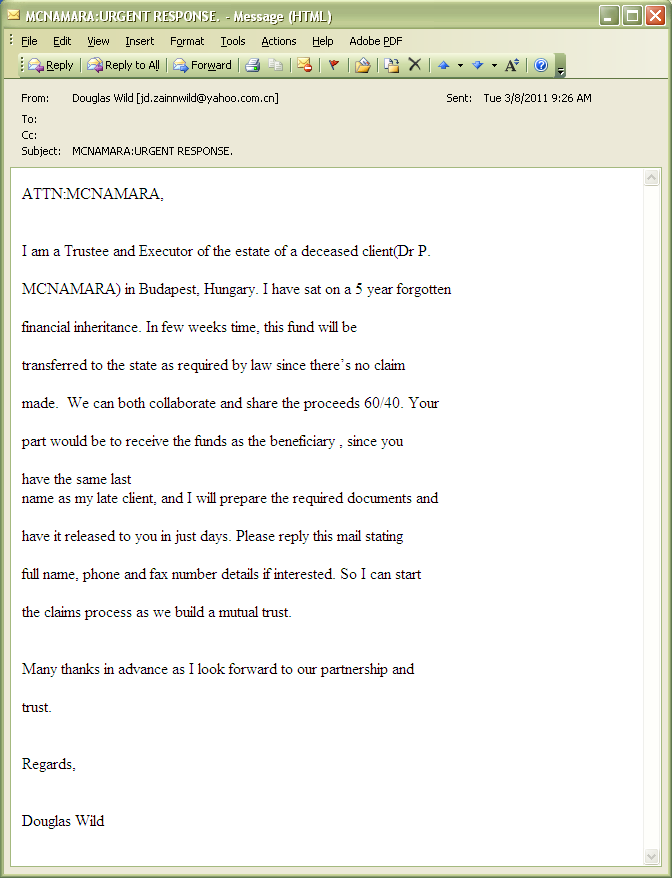 ATTN:MCNAMARA,

I am a Trustee and Executor of the estate of a deceased client(Dr P. MCNAMARA) in Budapest, Hungary. I have sat on a 5 year forgotten financial inheritance. In few weeks time, this fund will be transferred to the state as required by law since there's no claim made.  We can both collaborate and share the proceeds 60/40. Your part would be to receive the funds as the beneficiary , since you have the same last name as my late client, and I will prepare the required documents and have it released to you in just days. Please reply this mail stating full name, phone and fax number details if interested. So I can start
the claims process as we build a mutual trust.

Many thanks in advance as I look forward to our partnership and trust.

Regards,
Douglas Wild
The message originated from Yahoo China from a Douglas Wild (jd.zainnwild@yahoo.com.cn) with Yahoo user account of (X-RocketYMMF:) jdwild1@att.net.
Cheers!