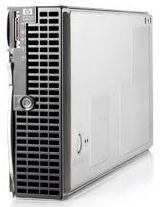 While troubleshooting some HP Virtual Connect Flex-10 issues today I came across the following customer advisory that states the on board (LOM) HP NC532i Dual Port 10GbE Multifunction BL-c Adapter that we have in our HP BL490c G6 series servers only supports a maximum frame size of 4088 bytes not the standard ~ 9000 bytes that I had previously thought they were capable of. Worse yet the HP drivers will let you set the MTU to 9014 bytes even though it won't work.
HP ProLiant Networking Software Version 9.65 incorrectly allows setting a Maximum Frame Size of 9014 bytes (9KB Jumbo Frames); however, the NIC does not support a Maximum Frame Size greater than 4088 bytes.

HP ProLiant Networking Software Version 9.70 (or later) properly limits the Maximum Frame Size setting to 4088 bytes on the affected adapters.
http://h20000.www2.hp.com/bizsupport/TechSupport/Document.jsp?objectID=c01995738&lang=en&cc=us&taskId=101&prodSeriesId=3884113&prodTypeId=15351
The advisory seems to indicate that this is a hardware issue but I'm curious if anyone else has run into this?
Cheers!