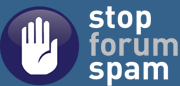 Well they might not be saving the Internet but they're definitely helping to save me a lot of time and effort.
If you've been following this blog you know that I've been fighting back the seedier elements of the Internet trying to stem the flow of SPAM both into this blog and into the discussion forums. In December of 2010 I resorted to blacklisting IP addresses from being able to comment on my blog and that seems to have helped stem the daily tide of ~ 50 a day to about 4-6 a day. After working on the blog I've turned my attention to the discussion forums. I found a great many bots were registering as users, passing the reCAPTCHA check and completing the email verification. Those bots then appeared to be performing one of the following; 1) capturing forum member email addresses, names, etc. and 2) re-posting previous posts with hidden or visible links that took users to scam websites.I needed something more than reCAPTCHA and/or email verification and I found Stop Forum Spam setup by Russ with help from pedigree. They are hosting a database where forum administrators and moderators can go to compare notes and check for previously flagged accounts by username, IP address or email address. Thanks to the Simple Machines Forum modification called Stop Spammer by M-DVD and snoopy_virtual I was able to easily integrate the API offered by Stop Forum Spam into the Simple Machines Forum installation that runs the discussion forums.
I'm really excited to see how well this works and I'll make sure to report back after a few weeks.
I might also consider installing the httpBL mod by snoopy_virtual for additional protection.
Thanks to Russ, pedigree, M-DVD and snoopy_virtual for their contributions to the community.
Cheers!