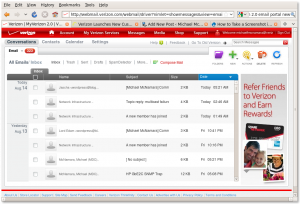 When I logged in to my Verizon webmail last week I was prompted to upgrade to the MyVerizon 2.0 portal. Always interested in trying out new things I responded "Yes" and have been very happily surprised with the new portal.
I believe Verizon announced this new portal back in April 2010, but only just recently started rolling it out to customers, or at least customers in the Philadelphia, PA area.
The first big thing I noticed (besides the redesigned site) is that Verizon is now encrypting the user credentials with an HTTPS/SSL connection. Let me just say the following, "its about time!". Up until now you couldn't login to webmail.verizon.net over a non-encrypted public hotspot for fear of someone potentially stealing your user credentials. So for me that single change is really exciting. Just a quick warning for those non-technical folks out there. While your user credentials are secured the actual contents of your email messages are still transmitted in the clear.
I'm curious what anyone else thinks of the new MyVerizon portal?
Cheers!