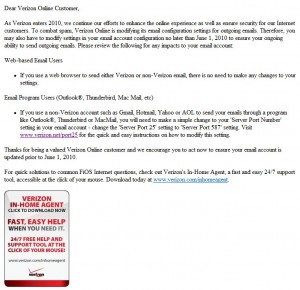 I received an electronic notice (email message) from Verizon last week indicating that they will start blocking SMTP (TCP Port 25) on or around June 1, 2010 for all Verizon FiOS customers.
Their taking this action in hopes of stemming the flow of SPAM from infected home personal computers.
I've never heard of Mail Submission (TCP Port 587) before this announcement so I had to Google for it and do a little research. It looks to me like Mail Submission is just SMTP with authentication although I could be wrong, perhaps someone would help clarify the benefits of using TCP port 587 over 25.
In any event, if you are a Verizon FiOS subscriber and you use a regular email client you'll probably need to make some configuration changes.
You can find the official Verizon announcement here.
Cheers!