Over the past two weeks I've been laid up at home quite a bit. The first week I was recovering from septoplasty surgery to repair my deviated septum which is believed to be causing me some sleep apnea.  The following week I pulled a muscle in my back while laying in my daughter's bed. If you've ever pulled a muscle in your back you know how painful it can be.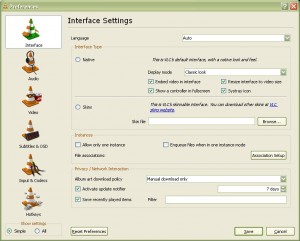 With all that idle time I took to watching a few classic movies that I had stored on my Windows Vista desktop computer in the basement. I was using a laptop from my bed watching the movies over 802.11b/g wireless from a share on my desktop. Unfortunately the movies would occasionally pause and start, over and over again. When I checked the statistics from VLC I noticed that I was pushing between 5MB/s and 6MB/s which is right around the peak performance for an 802.11b/g wireless network. I went digging into the VLC preferences and found an option to increase the caching/buffering which thankfully eliminated any of the pausing and starting issues.
Here's how I made the configuration change;
Select Tools from the Main Menu bar,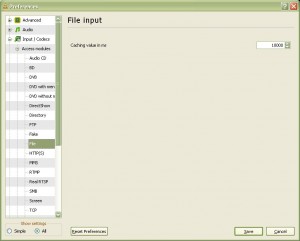 Select Preferences (Ctrl-P) from the Tools drop down menu, you should see a window similar to the figure above,
In the bottom left hand corner under "Show Settings" select All,
Expand Input/ Codes
Expand Access Modules
Select File and increase the value to 10000 (10 seconds)
Select Save
Now you just need to restart VLC and you'll notice that it will take quite a bit longer to buffer/cache before it starts playing. The buffering/caching will help prevent any drops in network performance from being visible within VLC.
You might ask what move classics I ended up watching?
Indiana Jones and the Raiders of the Lost Ark
Indiana Jones and the Temple of Doom
Indiana Jones and the Last Crusade
I also ended up watching quite a few James Bond movies including;
Die Another Day
Casino Royale
Quantum of Solace
Thankfully my back is feeling much better and my nose looks to be healing very nicely.
I'm curious if there is an easier way to stream movies/music around the house from Windows Media Center. I've read about some new players to the media extender market including Roku and Boxee. I'd love to find a solution where I could stream my movies and music around the house to either a TV of another computer.
Cheers!