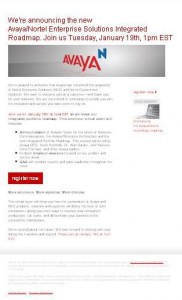 There was an email message sent out to Nortel customers today announcing an Avaya/Nortel Enterprise Solutions Integrated Roadmap event on Tuesday January 19th at 1PM (EST).
You can click on the image to the left for all the details as well as the option to register for the event.
I'm not sure how in-depth and technical this event is going to be but this is going to be Avaya's first major step in retaining the existing Nortel customer base. The event is only scheduled to take one hour so I'm not sure how much can be covered in detail within 60 minutes.
Here's the agenda of the event;
Announcement of Avaya's Vision for the future of Business Communications, the Avaya Reference Architecture and the new Integrated Portfolio Roadmap. This session will be led by Avaya CEO, Kevin Kennedy, Dr. Alan Baratz, Joel Hackney, Chris Formant, and other Avaya leaders.
In-depth breakout sessions focused on key product and service areas
Q&A with product experts and sales leadership throughout the event
Here's an additional blurb from the email message and registration page;
The virtual event will show you how the combination of Avaya and NES products, solutions and expertise will deliver the best of both companies—giving you more ways to improve your company's productivity, cut costs, and differentiate your business in the competitive marketplace.
Are you going to register and attend the event?
Cheers!