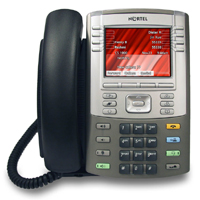 Nortel has released UNIStim firmware 4.0  for their IP phones;
0621C7A for IP Phone 2007,
0623C7F, 0624C7F, 0625C7F and 0627C7F for IP Phone 1110, 1120E, 1140E and 1150E respectively and
062AC7F for IP Phone 1210, 1220, and 1230
No UNIStim software release 4.0 is being offered for the Phase II IP Phone 2001, Phase II IP Phone 2002, and Phase II IP Phone 2004.  The Nortel IP Phone 200x series (except the 2007) was manufacture discontinued as of November 29, 2009.
The enhancements available with UNIStim software release 4.0 for IP Phones include:
UNIStim VPN Client (UVC) in the IP Phone 1100 series
Feature and Application Licensing
Secure Signaling using DTLS
Secure Call Recording (SCR)
Designed for Operability (DfO)
Enhancements to Certificate Support
The product bulletin for the 4.0 release listed the same fixes (two of which were for the 2004 model) as the previous UNIStim 3.4 release. I'm going to guess that someone forgot to update that section of the product bulletin with some relevant information.
The big news with this release is the built in VPN client for the IP Phone 1100 series, the UNIStim VPN Client (UVC). Unfortunately this initial release doesn't support encrypting/tunneling the traffic to/from the PC port, only the traffic to/from the Signaling Server and Voice Gateway Media Cards is encrypted with the VPN connection. The initial release is certified to work wtih Nortel VPN Router (NVR) family running software release 8.00 or greater. (NVR software release 8.00 has been qualified on the NVR 1010, 1050, 1100, 600, 1600, 17xx, 27×0, 4600 and 5000).
Please refer to the release notes and the product bulletin for complete details.
Cheers!