Radware acquired the Alteon product line from Nortel back in the first half of 2009. Radware has put together a very interesting marketing plan to rebuild the Alteon brand and announce their first new product out of that acquisition.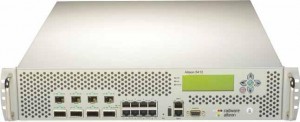 I've used the legacy Alteon ACE Director 4 and Nortel Application Switch 2216 which are both very solid products. The first wire speed router I ever worked with was a RND (Radware) router back in 1992. It will be interesting to see how folks receive the Radware announcement and if existing Nortel/Alteon customers stay with Radware. I currently have two Nortel Application Switch 2216s that are under maintenance from Radware. I just never have any problems with the 2216, so I have never had to contact Radware support.
Here are some specs for the new hardware;
Available Throughput Licenses
8 Gbps, 12 Gbps, 16 Gbps and 20 Gbps scalable throughput licenses
Non-blocking Switch Fabric
Layer 2 Switching
Routing Protocols
Processor
2 AMD Shanghai quad-core 2.5 GHz
Memory
Gigabit/GBIC Ports
4 10 Gigabit Fiber Ports (XFP pluggable optics) +
4 Gigabit Fiber Ports (SFP-GBIC Mini) +
8 Gigabit Ethernet Ports (Copper)
1000Base-SX/LX/ZX Ports
All Gigabit Fiber ports deliver SX/LX/ZX interfaces depending on GBIC
1000Base-SX (850 nm) Operating Distance
62.5 micron MM fiber .2 m to 275 m
50 micron MM fiber .2 m to 550 m
1000Base-LX/ZX Operating Distance
LX: Up to 10 km (6.2 mi)
ZX: Up to 80 km (49.7 mi)
You can find the data sheet for the Radware Alteon 5412 here.
Cheers!