It seems there is something amiss on the Internet this morning. It all started when my installation of Kaspersky Internet Security 2010 updated itself around 11:56AM this morning. I was looking at the new forums setup by Jeff Wiener over at TheTelecomBlog.com when I was greeted with a Phishing URL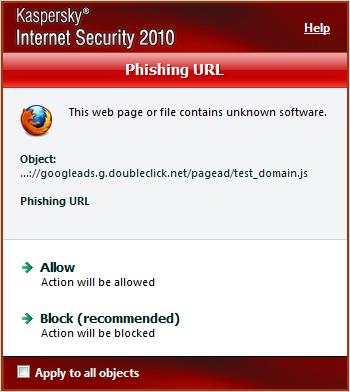 alert from the Kaspersky program. I had already been out to the site earlier in the morning so I was immediately puzzled by the prompt. Upon closer evaluation it appears that Kaspersky is marking one of the JavaScript files used (http://googleads.g.doubleclick.net/pagead/test_domain.js) to place Google Adsense ads onto the site as a phishing URL.
I browsed over to my own personal blog and got the same alert from Kaspersky, I also got the same alert visiting the discussion forums I recently setup. I went into the Kaspersky application and sure enough the 'Phishing URL' database was updated this morning 11/22/09 at 10:56AM (see screenshot).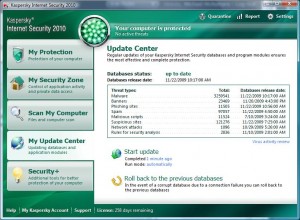 It looks to me to be a simple false positive, although I did download the JavaScript file and gave it a quick browse through.
A quick search of the Internet didn't turn up anything relative.
I guess I'll head off to the Kaspersky support forums and post a topic.
Cheers!
Update: It seems this is definitely a false positive with the Kaspersky phishing URL database. There is a thread over on the Kaspersky support forums with similar reports.
Update: (Sunday November 22, 2009 at 4:30PM EST) I recieved a response from Kaspersky Support indicating that the problem was a false positive and the problem was resolved in the Phishing URL database update issued at 1:16PM EST. As a side note I had to inform Kaspersky by sending an email message to newvirus@kaspersky.com with the subject of 'False Positive'. EJW3D44WYAKM