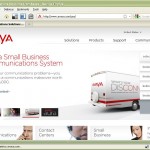 The obvious question on everyone's mind is what will happen to the Nortel and Avaya product lines? The safe bet at this time is that the data products will probably be fully adopted and the development and research investments will continue. The grey area is most certainly around the legacy TDM products and the IP telephony products. It should be noted that Avaya shed the majority of their legacy TDM solutions a few years back.
Avaya recently released a document that provides some answers although still leaves a lot of questions unanswered. The document did make some interesting statements:
Upon closing, Avaya looks to provide continuity for Nortel Enterprise Solutions and Avaya customers. Currently, Avaya expects to:
• continue to ship existing products for approximately 12-18 months post close;
• provide customer support for all customer contracts acquired in the transaction pursuant to their respective terms;
• utilize the vertical and professional services expertise of both companies to drive realizable value and navigate complex architectural evolution;
• honor product life cycle support as set forth in customer contracts acquired in the transaction; and
• adopt, for data products, the Nortel roadmap and investment plan.
So on the surface this document suggests that Avaya will adopt the current data product roadmaps including the research and development. It also promises that existing products will continue to be available for 12-18 months past the predicted December 2009 close of the sale to Avaya. It also promises a detailed roadmap of all products 30 days after the close of the sale.
Let me close out by pointing up to the current poll at the upper right hand corner of this blog. If one thing is certain it's very clear that Nortel customers are a very loyal group.  Almost 60% of respondents to that poll are willing to give Avaya a shot. I'm also eager to give Avaya a shot and excited to see how they will capitalize on Nortel's strengths.
What do you think?
Cheers!