We recently needed to replace the USB based wireless adapter we use in our CoWs (cart on wheels). The legacy D-Link DWL-AG132 (802.11a/g) was no longer being manufactured and/or available from suppliers so we selected the D-Link DWL-160 (802.11n/a/b/g) and that's were the fun started. We utilize HP Thin Clients on our carts and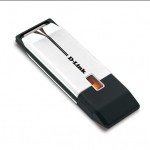 have been pairing them with USB adapters for the past year and a half (saves on having to purchase the chassis expansion kit and the PCI card).
Our initial tests showed no problems in connecting to our Motorola RFS7000 with AP300 (802.11a/b/g) radios utilizing 802.1x (WPA/TKIP). A few weeks later though we learned we had a problem with the combination and we eventually discovered that the problems revolved around roaming. We noticed that the DWL-160 didn't want to roam until it had lost complete signal to the AP it was associated to and then only after about 10 – 15 seconds would it roam to another APl. We had a really large project and the time frame was extremely tight so we decided to run out and pick-up a different adapter. So we purchased a Cisco Linksys

(WUSB600N) Wireless-N USB Network Adapter with Dual-Band. We decided to simplify our testing environment by removing the Windows XP Embedded (Thin Client) and test on a simple Windows XP SP2 laptop. We also removed the authentication (802.1x) and encryption (WPA/TKIP) and just test using an open network. We quickly noticed that the problem was not only evident at the 2.4Ghz frequency (802.11b/g) but also evident at the 5 Ghz frequency (802.11a). The big surprise came we noticed that the Linksys behaved exactly like the D-Link in that it would not roam which would lead to poor connectivity. We started to peel back the onion and almost immediately found that both products were based on the Ralink Technologies chipset (RT-2870).
We've performed multiple wireless packet traces using AirPCAP and WireShark and they don't show any issues with the wireless access points, however, they do show a lack of probing and some odd behavior by the wireless adapters (STA).
We're in contact with both Motorola and Ralink Technologies and we have tried Ralink's reference drivers (1.4.1) along with a beta driver they have provided but we haven't seen any real improvement. We did find that if you enable "Fast roaming", which can be found the in the Advanced Properties of the RA utility the STA behaves much better but it's still a world apart from the roaming performance that we're accustom to.
Has anyone else seen any issues with either the D-Link DWL-160 or the Linksys WUSB600N in a corporate network with respect to roaming? I can't imagine that we're the first folks to stumble upon this issue given that Ralink Technologies chipsets are in all these products.
Cheers!