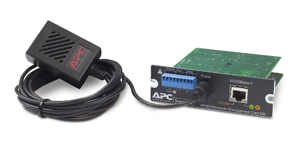 We deploy a lot of uninterruptible power supply units throughout our network. The deployment of VoIP has made those units even more important as we plan for power failure contingencies.  Occasionally we find one or two that are miss-configured. Here are the steps to resetting the username and password of the APC network management cards. You'll need to use a serial cable (2400,8,N,1) to attach to the UPS in order to reconfigure the management card.
Press ENTER, repeatedly if necessary, to display the User Name prompt. Press the Reset button on the back of the card. The Status LED will flash alternately orange and green. Press the Reset button a second time immediately while the LED is flashing to reset the user name and password to their defaults temporarily.
Then press ENTER as many times as necessary to redisplay the User Name prompt, then use the default, apc, for the user name and password. (If you take longer than 30 seconds to log on after the User Name prompt is redisplayed, you must repeat step 5 and log on again.)
You should immediately reconfigure the appropriate username and password (select System, then User Manager, select Administrator).
Cheers!