Yes it is unfortunately true but it's not the end of the world, not today anyway.
I don't think I've ever seen such a media frenzy over any company such as I've seen with Nortel. All kidding aside I've received no fewer than 25 e-mail messages today from folks outside my organization concerning the Nortel news (I won't even mention how many messages were flying around internally). At first came the trade magazines with their "newsletters" and then came the vendor/reseller solicitations (as if my Nortel network was about to implode by 12:00PM noon if I didn't contact them).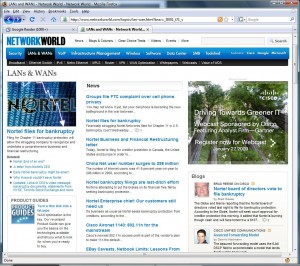 Just looking over at Network World I spotted approximately 14 stories related to the Nortel bankruptcy. Is there really that much news that we need 14 stories dedicated to the subject?
The real story here… how is Nortel's current customer base going to react to the news. Is this the beginning of the end for Nortel or will it be the revitalizing step that Nortel needs to finally come out from under the haze that's been hanging over it since the dot-com bust in 2001.
I'm sure a few folks have taken notice of the current poll on the left side of this page; What vendor would you use for Enterprise LAN/WAN switching if Nortel disappeared tomorrow?
Where do we as customers go from here… as if there wasn't enough to-do now we need to tackle the larger question of what's the risk to my organization if I'm using Nortel equipment and if I'm reliant on Nortel support.
It's obvious that Cisco is the market leader but how's does Cisco stand up on price and support compared to Hewlett Packard (HP), Juniper, Foundry, etc. These are all questions quite a few of us are going to be struggling with over the next few weeks and months.
Links of interest include;

http://www.nortel.com/corporate/restructuring.html
http://www.theglobeandmail.com/servlet/story/RTGAM.20090114.wnortelstaff0114/BNStory/Technology/home
Cheers!
Update: Thursday January 15, 2008
Now that the inital frenzy is over and the sugar kick has worn off Network World is now reporting "Nortel customers staying the course – for now".