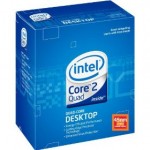 I know your asking "who cares" but it's a blog and not every post needs to be totally useful. In this case I thought I would just spew about my latest desktop creation, yes I still build my own PCs and overclock them as well.
Over the holidays I upgraded my PC by replacing the motherboard, CPU and memory. I also stepped up from Windows XP to Windows Vista Ultimate (64-bit) and I jumped back to an Intel platform from previously using AMD.
I used the following components:
I can honestly say that I'm quite pleased with how everything has turned out. I still play a few games here and there (Left 4 Dead is just awesome and I'm a big fan of Steam) and the DX10 support in Vista is just amazing on the eVGA 8800GTS that I reused from my previous system.  There was only one small issue that I encountered that involves the rear audio jacks from the RealTek HD Audio codec which I believe is a Windows Vista 64-bit driver problem since the audio hardware works with Ubuntu Live.
I also stumbled upon Windows Media Center and I have to honestly say that I'm very impressed. I ripped a few of my favorite DVDs to my hard disk and had my own on-demand library right there on my own PC.
I'm sure there will be a few folks scratching there heads asking why this bloat didn't just purchase an Intel Core i7 processor inplace of the older Intel Core 2 processor. Honestly, while the price of the each processor was in line with the other the motherboard and memory were much more expensive for the Core i7 platform.
Cheers!
Update: January 22, 2009
I was finally able to resolve the audio issue by installing the latest drivers (v2.14) from the RealTek website for the "High Definition Audio Codec".