Nortel recently created a website, Nortel on Nortel, to host some of the best practices and experiences that Nortel's own Information Technology department uses in day to day IT business. While the best practices and case study documents are nice additions it's the tools section that has me excited.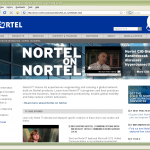 The IT Tools site has a number of very useful tools that include;
– Nortel Configuration Converter
– CLI*manager
– MultiCast Hammer (MC Hammer)
– Nortel Icons Library
– Latency Manager
The Nortel Configuration Converter promises to convert any Cisco CatOS configuration file to a number of different Nortel product configurations. When I managed six Nortel Passport 6480 Switches I used CLI*manager extensively to help automated the provisioning and configuration and was extremely greatful to Brett Sinclair for his efforts. Multicast Hammer is a great tool that can be used to help map out any multicast configuration issues (although I still like using VLC). I've always struggled to find icon sets for both logical and physical diagrams so it's nice to see Nortel finally stepping up to the plate with some decent icons. I have never seen the last tool, Latency Manager, but I'll be interested to see if it's really useful, I have considered deploying SmokePing by Tobi Oetiker in the past so I'll definitely need to give this tool a try.
You can download each of the tools from the link provided above, the website only asks for your first name, last name and email address when you download the tool(s).
Cheers!