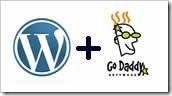 It's closing in on two months now since I migrated my content from Blogger over to my new WordPress installation at GoDaddy. I must admit that I've enjoyed the entire process, from researching the different hosting providers to actually migrating the content and publishing the site.In short I'd have to say that I'm pleased with GoDaddy. I know there is a lot of "hate" out there directed at GoDaddy but the solution has been on par with my expectation of what a $6.64/month hosting plan should provide. It's no where near as fast as the servers I have at work or home but it works fine enough, what do you want for less than $10/month? The install was as simple as clicking on the "Install WordPress" icon within the GoDaddy hosting connection control panel. Although I did need to fix up the configuration after the installation since I wanted to use the hostname "blog.michaelfmcnamara.com" as opposed to just "michaelfmcnamara.com". I should probably let folks know I also used GoDaddy to register five different domain names along with their "Deluxe" hosting plan. I should point out to those that are interested that customers automatically get an "Economy" hosting plan with each purchased domain. I only signed up for a single year and didn't mind spending the extra dollars to try out the upgraded hosting plan.
With respect to WordPress I have just one word – AWESOME! I've spent quite a bit of time sifting through the cascading style sheets of the themes and dissecting the PHP code trying to understand all the ins and outs. There is literally a dizzying array of plugs-in and add-ons out there for WordPress that extend the solution's functionality ten fold. You may have noticed that I've been adding a few of the more mainline plug-ins every week (don't want to overload the site and/or detract from it's main purpose – educating the readers).
As a side note this blog was recently reviewed by Blogged and received an 8.3 rating. If your interested or just bored why don't you wander over and post your own review of this blog.
Cheers!
Update: August 19, 2008
I thought I would just post an update with respect to my experiences with GoDaddy. I'm happy to say that I haven't yet had any issues or problems. The traffic to this blog continues to grow daily but the site still feels fairly responsive. I've also added quite a few different WordPress plug-ins and just can't say enough good things about WordPress.
Cheers!