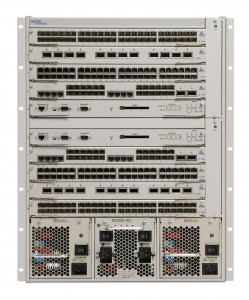 It would seem that Nortel has discovered some serious flaws in software 4.1.6.0 for the Nortel Ethernet Routing Switch 8600. Nortel published a bulletin today entitled, "Ethernet Routing Switch (ERS) 8600: System Instability maybe seen after upgraded to 4.1.6.0 software".
CPU instability issues with Maintenance Release (MR) 4.1.6.0 have been discovered during initial deployment. CPU crash dump events leading to system instability have been reported after the operational SW was upgraded to 4.1.6.0 at different customer site.
There was also an additional note concerning an interaction between Microsoft's Network Load Balancing (NLB) when running in multicast mode on 4.1.6.0 software code that might result in a CPU crash on the ERS 8600.
Nortel is advising that 4.1.6.0 software has been pulled from their website and replaced with 4.1.6.3 software. They are also advising that 4.1.7.0 software will be available in August 2008.
While I haven't personally seen this problem I only have 1 switch running 4.1.6.0 software out of the 37 ERS 8600 switches we have in production.
Cheers!